This post may contain affiliate links. Please read my disclosure for more information.
Organize your pots and pans once and for all with these brilliant kitchen storage solutions
Frustrated with the amount of cookware storage in your home and looking for storage ideas to organize pots and pans?
I hear ya! Organizing pots and pans can be a pain, especially if you have a small kitchen or little cabinet storage space to fit everything.
Pots and pans are big and take a lot of room in kitchen cabinets, and even if you have room for everything, if it's not organized it can be difficult to find what you need.
Luckily, there are ways to maximize space and stay organized in just about any kitchen with a little bit of creativity and a few amazing storage solutions.
Tips for organizing pots and pans
Before we get into the amazing storage solutions to organize pots and pans, I wanted to share some tips to declutter to get the most use from whatever cabinet storage space you do have.
Get rid of anything you don't need
The first step in organizing your pots and pans is to get rid of anything you don't need or use.
If you're like me, you might keep cookware that you don't use or actually need. You know, just in case… But if you're struggling to organize your kitchen, it's time to get rid of them.
Get Creative with storage space
Who says pots and pans need to be stored in a kitchen cabinet. If you don't have the room, you need to think outside the box and get creative with your storage space and utilize whatever space you do have.
Have designated storage space for everything
Knowing where everything goes and always putting things in the designated storage space is the key to home organization.
Whether it's your pots and pans cabinet, organizing a small bedroom, decluttering your kid's toys, or organizing a pantry.
Buy quality cookware in sets
Buying cookware in sets can definitely make storing them a little easier since each piece of the set typically fit into each other which saves kitchen space.
And if you don't have cabinet space for everything and your cookware storage is visible, it'll just make your kitchen decor look better too.
15 storage ideas to keep your pots and pans organized
Stackable Pan Rack Organizer
One of the simplest ways to organize pots and pans while maximizing cabinet space is to stack them vertically so they don't take up as much room.
This is why using this pan and pot lid organization idea is one of the easiest storage solutions since you can utilize more room without taking up more space.
Kitchen Counter Pots and Pans Rack
Don't have cabinet space to fit all your cookware? No problem! This pan and pot lid organization idea provides extra kitchen storage while keeping your cookware tucked away in an organized fashion.
You can mount this pot rack at the end of your counter, on the side of cabinets, or even in a small unused nook or cranny in your kitchen.
Pot and Pan Lid Organization
Ok, so even though you can stack your pots and pans to save space, you probably have a pile of lids that are a hot mess and can never find the right one when you need it.
This genius pan and pot lid organization idea can help since the lids are stored vertically which saves space and you can organize them by size to always be able to find the right one.
Wall Mounted Kitchen Organizer
Another genius way to organize pots and pans and maximize space in your kitchen is by using a wall-mounted kitchen organizer.
This way you can hang your cookware on any wall space you have available and free up kitchen cabinet space for other kitchen essentials.
Hanging Pull Out Pots and Pans Rack
This hanging pull-out pots and pans rack is one of the easiest ways to keep your pots and pans organized and easily accessible so you can find what you need when you need it.
It's super easy to install in any cabinet and uses space that would otherwise go to waste leaving more room on the bottom for lids, casserole dishes, and other kitchen items.
Corner Pullout Swing Tray Organizer
If you have a blind corner cabinet in your kitchen that is not very functional because it's just too hard to get to or find what you need, then this corner pullout swing tray organizer is the perfect storage solution.
The cabinet organizer tray swings out so you can actually see and easily access everything you have stored in that cabinet while bringing a modern touch to your kitchen decor.
Cabinet Door Pan Lid Organizer
When you don't have much storage space in your kitchen, you need to think outside the box and get creative by utilizing space that would otherwise be wasted.
This is why this cabinet door pan and pot lid organizer is a brilliant use of space to keep your entire kitchen organized and decluttered.
Pull Out Kitchen Cabinet Rack
I'm loving this pull-out kitchen cabinet rack to help organize pots and pans because it can be used in just about any cabinet you have available for storage making it extremely versatile.
Just being able to pull the contents of your cabinet out into a well-lit area to find what you need will definitely help to keep your kitchen cabinets and cookware organized.
Closet Pantry Storage
Not enough cabinet space in your kitchen? Why not use a small closet to store and organize your pots and pans as well and other kitchen essentials.
Just add a simple shelving system with adjustable shelves and you are good to go.
This keeps everything super accessible and easy to find what you need as well as put everything back in its place after the dishes are done to keep your kitchen cleaned and organized.

Baking Sheet Organization
If you love to bake then there is no doubt that you have a bunch of sheet pans strewed around in your cabinet drawers among all the pots and pans.
If this is you, then you are going to love this baking sheet organization idea from Two Twenty One. She uses a file folder holder to organize all her sheet pans so they are easily accessible and neat.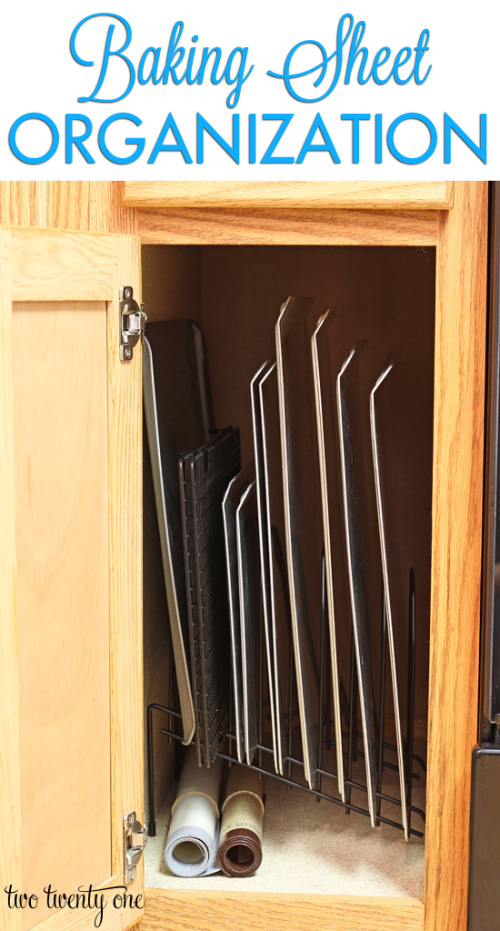 Deep Drawer Pots and Pans Storage
If you have deep kitchen drawers, then what better way to utilize every square inch than to store pots and pans? I found this idea online and now I wish I had deep drawers in my kitchen.
To keep everything organized and neat, just add inexpensive drawer dividers and you'll never have to search high and low for a pot, pan, or lid again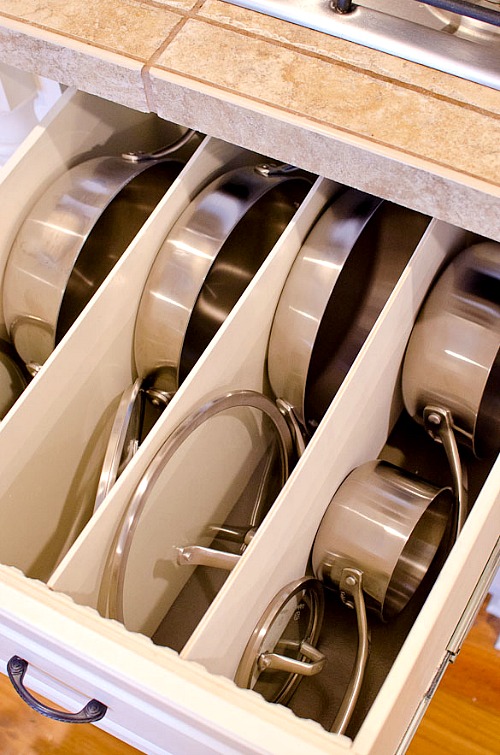 Hanging Ceiling Pot And Pan Rack
No matter how small your kitchen is or how little storage you have, hang pots and pans from the ceiling is always an option to save space.
What's nice about this ceiling pot and pan rack is that there's a top shelf for added storage as well and the chains are adjustable to fit almost any ceiling height.
Corner Cookware Stand
We all have corners of our homes and kitchens that go unused which makes it the perfect place to use a corner cookware stand to organize pots and pans.
It's the perfect pot organizer considering it doesn't take up much space (which probably isn't utilized in the first place), this makes the perfect cookware storage idea for any sized kitchen
Use Peg Board to organize pots and pans
If you're looking for a very inexpensive way to organize pots and pans, then using pegboard is a great way to create extra storage.
What I love about Hanging cookware on pot rails is that you can design and arrange things in any way you choose to match your style and home decor.

Hang Cookware On Pot Rails
Hanging cookware on pot rails is yet another amazing pan organizer to store cookware that doesn't take up a lot of space in your kitchen.
What's nice about this hanging storage idea is that it also helps to keep your pot and pan lids organized too which many other products don't offer.
Organize Pots and Pans Conclusion
As you can see, there is no shortage of ideas to organize pots and pans whether you have a small kitchen, very little storage space, or have tons of cookware.
What matters is that you find a way to get organized and keep it that way to make life a little easier.
Want more home & kitchen organization & storage solutions? Check out these popular posts
20 Genius Ways To Organize a Small Bedroom
18 Amazing Ways To Organize a Pantry
How To Organize a Chest Freezer
17 Lego Organization and Storage Solutions
42 Genius Car Organization Ideas
20 Family Command Center Ideas To Get Organized
15 Ways To Organize Pots And Pans In Your Kitchen