This post may contain affiliate links. Please read my disclosure for more information.
Organizing hacks & small room storage solutions to help you organize a small bedroom by maximizing the space you have
Looking for ways to organize a small bedroom? No worries, I've got you covered!!
Your bedroom is supposed to be a place to unwind at the end of a long day. This can be difficult when you are trying to relax in a cluttered, crowded, and disorganized space.
There may be many reasons why your bedroom is less than desirable.
Maybe you have too much stuff or your furniture is oversized leaving you little room for storage.
Or it could be that we are just not great at getting organized or it's simply just too small…
No worries, whatever the reason for a cluttered, crowded, disorganized bedroom, there is a solution.
How to Organize a Small Bedroom
The key to organizing a small bedroom is to maximize the space that you do have and to organize everything in an easy-to-access way while still looking stylish.
I'm a sucker for organizers that help control the clutter in my home. If it makes my life a little easier, I'm all in!
I mean who won't want a neat and calm home environment, right?
But what many people don't think about is that being organized also saves time and money.
Think about it, how much time is wasted looking for your keys (or whatever) every day? What about having to go out and buy an item you know you have but just can't seem to find?
Here are some of my all-time favorite small bedroom organizing favorites…
Small Bedroom Organizers
47 Genius Ways to Organize a Small Bedroom
Check out these 20 genius ways to organize a small bedroom that are sure to help you unwind at the end of the day.
Revolving shoe rack organizer
Revolving Shoe Lazy Susan Organizer
I love this revolving shoe organizer because it is so versatile to organize a small bedroom. It is a beautiful piece of furniture that you can use to organize your shoes, books or anything else you like on an easy-to-access, rotating shelf.
You can even use it to perform double duty as an organizer and nightstand. This revolving shoe rack is a great space saver while still looking like a classy decor item.
Adjustable Closet Organization System
Create a space for everything in your wardrobe with this closet organization system. What I love about this adjustable closet organization system is that you can customize your closet to fit your specific needs.
It is super easy to maximize every inch of your closet space with the adjustable shelves and racks to fit your needs. If you are looking for a completely customized closet space, you'll definitely want to check out Easy Closets.
Space Saving Under Bed Storage Drawers
Don't let any space go to waste. These storage drawers that fit under your bed are a great use of dead space in your bedroom. You won't believe how much stuff you can store away there. You can store seasonal clothing, extra bedding, or whatever you choose.
I found a great DIY tutorial on Grillo-Designs if you are handy around the house.
Not into DIY? You can find durable under-bed storage drawers here.
Rolling White Wire Underbed Cart
Under Bed Shoe Storage Organizer
Bookcase Bed Frame

This bookcase bed frame that I found on Buzz Feed is a genius idea for both children and adult bedrooms. Simply add two tall single cubby bookcases on each side of your bed and add a board across the top to complete the "framed" look.
Finish the look with a two-tier bookcase for a footboard and you have a unique and stylish bed that has tons of storage space!!
You can find these shelving units on Amazon for pretty cheap and they have multiple sizes and color options to fit any bed and bedroom.
Rolling Cart
This rolling cart is an awesome piece that you can use for just about any purpose. It has three shelves and can fit in just about any place you need extra storage. This piece can also double as a nightstand as well or can be tucked away into any small space to maximize storage. It's also perfect for small bathrooms, in the kitchen, or just about anywhere.
Here are a few options I found on Amazon
Space Saving Wall Brackets
I found this genius organization hack on Buzz Feed and fell in love with it. It is a simple idea way to organize a small bedroom that is so versatile.
You can use these shelving units to create a custom closet, turn an unutilized wall into extra wardrobe space or just have a place to put out clothes for tomorrow. These wall brackets are also perfect for your laundry area.
Floating Shelves
I love the idea of using floating shelves where ever you need extra storage, especially in areas like the corner of rooms which always seem to be bare, wasted space.
They are really easy to install and provide a bunch of extra storage space in every nook and cranny around your home.
Lazy Susan Style Revolving Bookcase
This revolving bookshelf is an organizer's best friend with its height and storage capacity. What I love most is every square inch can be used for storage, and it doesn't necessarily need to be your books.
You can use this for just about anything you want and the revolving feature makes finding what you need super simple!!
Loft Bed To Create More Space
This loft bed idea combines sleep and storage maximizing space in small rooms. Typically our bed is the biggest piece of furniture taking up space in our bedrooms.
How great would it be if we could free up that space for an office area, for extra storage, or anything else we need. This loft bed incorporates a bed, desk area, and storage space all in one utilizing a small space to its fullest potential.
Office Nook
Need an office area but just don't have the room? You don't need a room dedicated to office space, you can tuck away a small office in your bedroom or any other space in your home.
This great idea found on While He Was Napping is an excellent use of space, you can easily create your own area that fits your needs with these cubical wall shelves.
Here are also plenty of wall-mounted options if you aren't super handy around the house and want a simple way to create an office area.
Here are a few wall mounted desk ideas

Shelves, Shelves and more Shelves
This shelf that goes around the perimeter of the room is a genius use of space that I would have never thought of. It provides tons of extra storage without cluttering up your bedroom.
You can use it to store books, spare bedding, seasonal clothing, or really whatever you choose.
Space Saving Corner Shelves
I love how these corner shelves because they provide so much vertical storage in such a small space in a corner that would typically be dead unused space. Seriously, who would have thought??
Entertainment Area
Apartment Therapy
Don't want to give up a TV in your bedroom to save space? Now you don't have to with this entertainment center idea that provides a place for your TV and a ton of shelving to maximize every inch of the wall.
You can easily create this with some inexpensive shelving and shelving brackets to fit on any wall in your room. This is a project that is cheap to make yet it adds a custom look to a small space!!
Murphy Bed
A murphy bed is the ultimate space saver in a small room. It's really a brilliant idea!! Your bed is tucked away in a beautiful piece of furniture that has storage on each side.
When you are ready for bed simply pull it down and go to sleep. Murphy beds are not cheap but are well worth it and this idea is also perfect for a guest room/office area!!
Wall Closet
No closet space? No problem!! Turn an entire wall of your bedroom into a closet whit this genius idea. Place shelving units around the perimeter of your room, add some rods to hang clothing and you have a makeshift walk-in closet!!
You can even add a little nook to fit a vanity or even a small office area. Here's a great option to add closet space to any room.
Over the Door Storage Rack
Don't waste an inch of space! Use this over-the-door storage rack to organize a small bedroom. Store your handbags, accessories, or whatever else you want.
Here is another great over-the-door organizer alternative I found on Amazon, that gives you tons of extra room to store tons of stuff in a small space.
Dresser Drawer Organizer
This drawer organization system found on The Spruce is perfect to utilize every inch of your dresser while still being able to find what you need very easily.
These drawer dividers can be purchased for very little while making a big impact in getting and staying organized.
Floating Nightstand
It's amazing how a simple idea like this wood pallet nightstand can make a big impact when you are trying to organize a small bedroom.
It's so simple to make yourself, yet is functional at the same time. You can utilize the space underneath it to add even more storage space.
Pegboard Organizer
This pegboard organizing idea I found on Real Simple is perfect for belts, ties, jewelry and so much more. You can hang it behind a door, on the back wall of a closet, or in a small area that would otherwise be unused space.
It is a simple DIY project that anyone can make with a sheet of pegboard that comes in a variety of colors to fit your decor and some S hooks. You can even add some cute baskets to store smaller items.
Space Saving S Hangers
S Hangers are awesome to organize your closet space without everything getting overcrowded. You can fit multiple pieces of clothing on one hanger to reduce the bulk and give you more space for everything.
Bedside Table Drawer Storage
Since most of us need a night stand or bedside table on each side of the bed, might as well have it pull double duty by getting one with drawer storage.
The extra space is perfect for storing small items that you use on a daily basis.
Handbag Organizer
If you own a lot of handbags, then there is no doubt that they take up a lot of room in a tiny bedroom. The good news? This handbag organizer can go a long way in reducing how much space they take up.
You can install this organizer in a closet, hang it on the back of the door, or even on unused wall space that's not being used.
Wicker Baskets For End of Your Bed Storage
The foot of the bed is often an overlooked area that's perfect for adding extra storage. Of course, you need to make sure there is enough space to walk by.
If so, adding large wicker baskets is an inexpensive way to create additional storage for seasonal items, storing blankets, and other bulky items.
Chest of Drawers Organizers
One must-have piece of bedroom furniture every professional organizer or interior designer recommends for a small master bedroom is a chest of drawers.
They don't take a whole lot of valuable floor space yet have enough room to organize a lot of stuff in a little space.
Platform Bed With Storage Drawers
Another great way to organize a small bedroom is to buy furniture that does double duty like this bed frame with pull-out storage drawers built into it.
The drawers are a good place to store season clothing when not in use to free up closet space if you have a small closet.
Over the Door Organizers with Detachable Basket
If you have a tiny bedroom, then using every inch of the smaller space is needed to keep your bedroom organized.
This is exactly why over-the-door organizers like this one with removable baskets may be an easy way to maximize storage space in a small bedroom.
Table Lamps With Electronics Charging Station
Another bedroom organization hack is to have multi-functional room accessories like this night light tabletop lamp with a charging station.
It's perfect for a nightstand, bedside table, or any flat surface where you might need extra natural light. Plus it'll charge all your small devices and keep them organized too
Laundry Hamper Blanket Storage
Another genius organization hack for small room storage is using laundry hampers to organize bulky items.
They are the perfect solution for organizing bed linens and extra blankets storage while adding a nice decor piece to your room.
Floating Vanity Make-up Station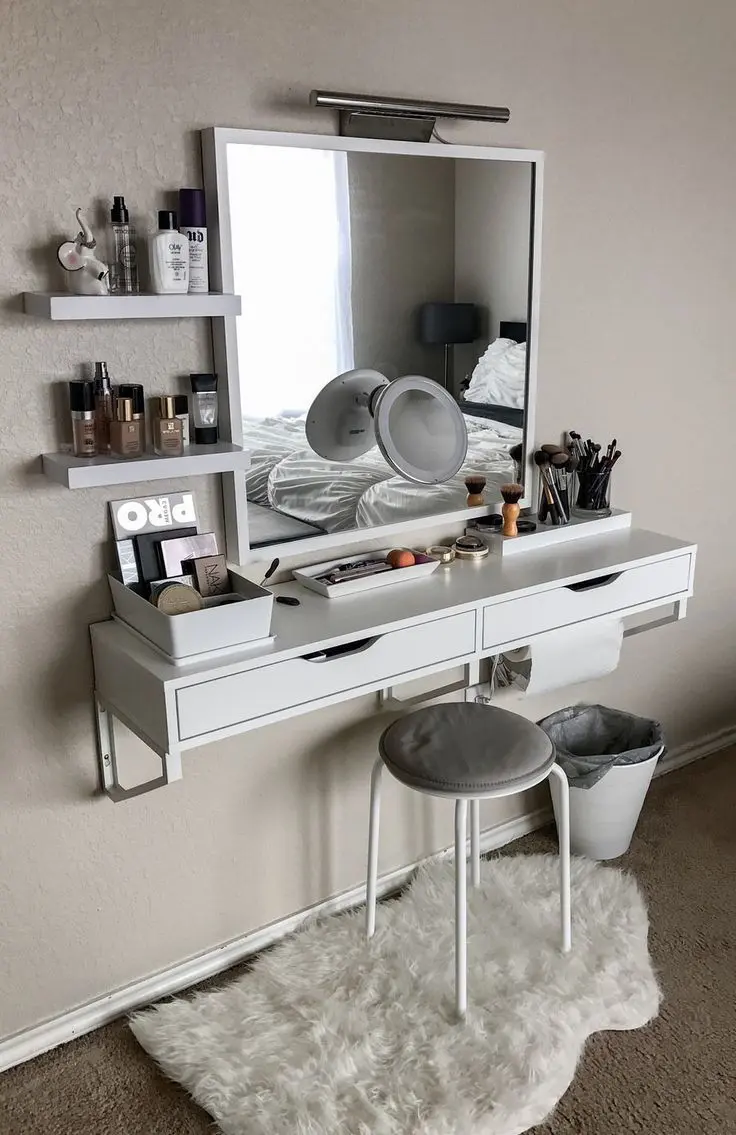 Would you love to have a vanity in your bedroom but don't have room for it? No problem, this DIY small bedroom organization hack is exactly what you need.
This takes less space than any other vanity I've seen and i's a super easy DIY project to create using just a few sturdy brackets and a pullout drawer unit.
Space Saving Door Hooks
Create more closet space with a coat rack that hangs over the back of your bedroom door to hang your coats, handbags, scarfs, and more.
Vertical Space Saving Shelving
One of the best small bedroom organization ideas is to use narrow vertical storage like these space-saving shelves.
They take up very little floor space, yet you can store quite a few shoes, handbags, or other bedroom items to stay organized.
Room Divider With Shelves
Trying to organize a small bedroom for kids that is shared by two (or more) children can be difficult.
One good idea is to separate the space with a room divider (with storage of course) so each child can be responsible for keeping their side of the room clean and organized.
Clothing Rack With Shelves
Need more closet space? The best way to organize a small room with no closet is to use a free-standing clothes rack.
It'll give you the space you need to hang clothes, organize shoes, and has shelf storage for handbags and other things.
Headboard Bedroom Furniture Storage
An easy way to organize a small bedroom is to get furniture with storage built-in. One way to add additional storage space to your small bedroom is with this headboard with shelves.
It'll make your space feel bigger while not taking up any more room than with a traditional headboard.
Storage Beds
It wasn't until I started researching how to organize a small bedroom that I discovered storage beds.
This bed frame has so much room and is the perfect place for pillows and extra bedding as well as season clothes and other bulky items.
Expandable Wall Hook Rack

Utilizing unused wall space is an efficient way to add more storage space to any room and make organizing a small room way easier.
This accordion-style expandable wall hook system is the best thing to add wall storage without making a bunch of holes in the wall.
Open Walk-in Closet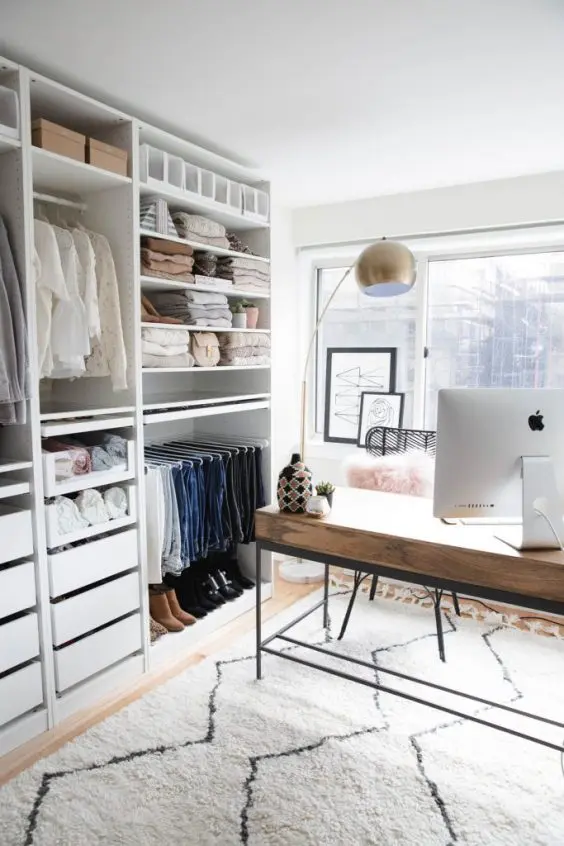 Wouldn't you love to have a walk-in closet? Who wouldn't! This open walk-in closet organization system is the next best thing.
You get all the benefits of a walk-in with enough room to hang all your clothes and shelves to organize just about every closet essential and accessory imaginable.
Hanging Clothing Shelves
If you have a lot of clothes, it can be difficult to find the extra room for everything in a small bedroom that barely has room for one dresser.
These hanging clothing shelves are the best way to add more drawer space without adding a second dresser to your bedroom and they are very inexpensive.
Jewelry & Accessory Organizer
Jewelry typically doesn't take much room but throwing everything into a small jewelry box can tangle everything into a huge mess.
This space-saving jewelry and accessories cabinet is the perfect storage solution. It takes up very little room and keeps everything organized and easy to find.
Shelf With Cute Storage Baskets
Narrow shelves are a storage staple in the small room organizing since they can be utilized in many different ways.
Adding cute storage baskets can make a big difference since you can utilize every vertical inch for more room.
Night Stand With Extra Storage
You've seen many bedroom organizing ideas thus far and one common theme is furniture that includes more storage space.
This night stand with extra storage is another example of functional furniture.
Just the extra few drawers can help to keep your room more organized and is a good place to keep smaller items that you use on a regular basis.
Hanging Wall Mounted Baskets
Want an easy way to add more storage baskets to your small bedroom but don't have the space? These hanging wall-mounted baskets are the solution.
The best part is that they can fit in any narrow wall space on your bedroom walls and are super easy to install.
Vertical Coat Rack Stand
Coat racks aren't just for mudrooms, entryways, or the living room. They are also perfect for small room organizing.
They only take up about 1 square foot of your bedroom's floor space and can help organize coats clothing, handbags, and much more.
Cube Wall Shelves
Cube wall shelves have become quite popular recently and are a great way to add more storage to your bedroom.
They add a nice touch to your room decor and are perfect for displaying keepsakes. organizing books, and more.
DIY Shoe Storage Rack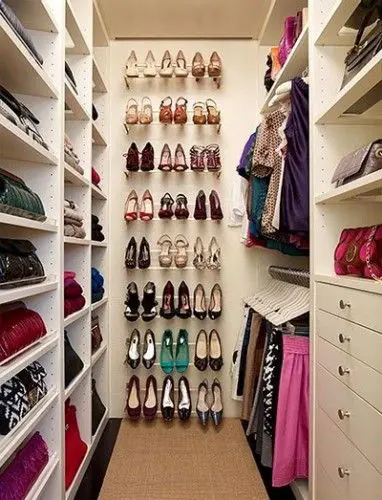 If you have a lot of shoes then you'll love this DIY shoe storage rack idea and it's so simple to create. All you need is some double bar towel racks to create this organizer.
What's great is that you don't necessarily need a walk-in closet, you can install this on a bedroom wall.
Extra Drawers Storage Cart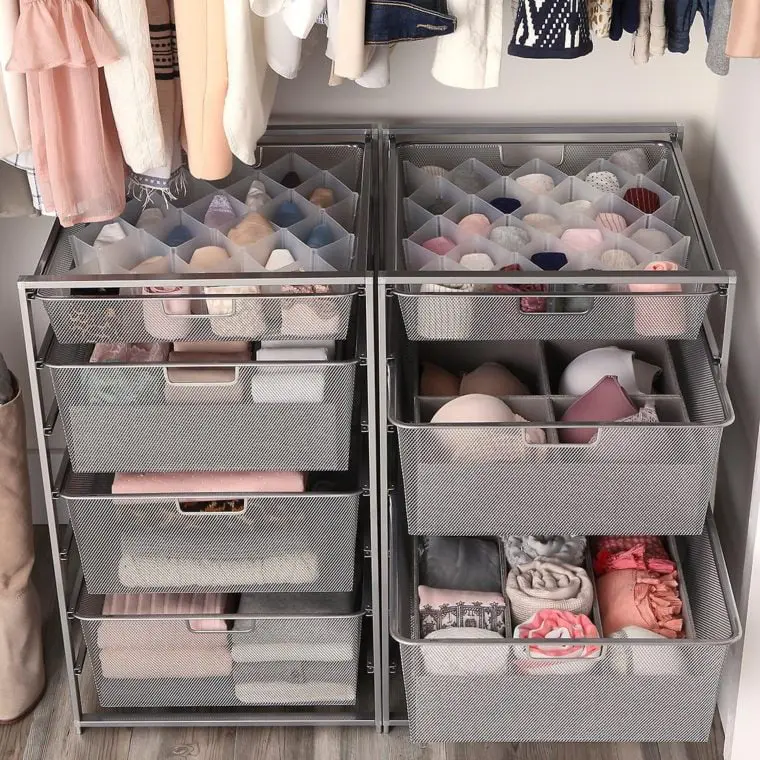 Leave it to the Container Store to offer such an amazing bedroom organization system like this drawer storage cart.
These carts are so cute and are perfect if you need more storage to keep your clothes organized.
Closet Organizers
If you have plenty of closet space but are just looking to keep it neat and organized then this closet organizer is the solution.
They are fairly pricey but will definitely keep your small bedroom organized and neat.
Organize a Small Bedroom Conclusion
So there you have it, 47 ways to organize a small bedroom!! These are great ideas to help you declutter and save space while staying organized.
Incorporate a few of these in your small bedroom and before you know it, you will be getting the best night's rest with less clutter and stress!!
How to Organize a Small Bedroom FAQ
How do you organize a bedroom with a lot of stuff?
The first step in organizing a small bedroom with a lot of stuff is to get rid of anything you don't need. Next, find a place for everything remaining using organizers and storage solutions to keep it all neat.
Should you store things under your bed?
Yes, under your bed is a great place to store items that you don't use on a regular basis. It's the perfect blanket storage solution as well as extra bedding, seasonal clothing, and much more.
How can I organize a small bedroom?
There are many small room organization ideas you can use depending on your needs. This article lists many ways to organize a small bedroom.
Here are some related articles with more ways to organize your home
15 Easy Ways to Organize Pots & Pans In Any Kitchen
How to Organize Your Pantry in 10 Easy Steps
How to Organize Your Chest Freezer (So You Can Actually Find What You Need)
17 Lego Organization and Storage Solutions
23 Brilliant Spice Organization Ideas
Zone Cleaning: A Simple Solution to Keep Your Home Clean and Organized
42 Genius Car Organization Ideas, Hacks, & Tips
Do you have any tips to help organize a small bedroom? Leave a comment we'd love to hear them!!
How To Organize a Small Bedroom: 47 Organization for Bedroom Ideas that are Simply Genius
not into diy