This post may contain affiliate links. Please read my disclosure for more information.
17 Virtual Baby Shower Games That'll Keep Guests Entertained and Engaged
Hosting a baby shower on Zoom and looking for fun virtual baby shower games to keep the crowd entertained? Keep reading for some of the best games to play at a baby shower both in person and virtually
---
Baby showers are always an exciting and fun way to gather with friends and family and celebrate a new baby coming into the world.
But it sometimes can be hard to pull off getting everyone together for many reasons which why hosting virtual baby showers has become increasingly popular.
It's much easier for guests who live out of town to attend and with the state of the world, event halls, and party rooms have limitations on capacity to abide by the social distancing protocols that have been imposed in recent months.
But you might be wondering exactly how to pull off the event and what kind of virtual baby shower games to play to keep guests entertained and having a good time.
No worries! I've put together a list of the 17 best virtual baby shower games as well as some tips to make your event as fun as a traditional in person baby shower.
How Do You Play Virtual Baby Shower Games On Zoom
(or any other online platform)
Hosting a virtual baby shower on Zoom, or any other online platform can be a little overwhelming when you don't know where to start.
Here are some of the best tips to throw an online baby shower for mom and new baby so your first virtual shower is a hit.
Choose the best online meeting platform for the virtual baby shower
The first thing you'll need to decide is which online platform to use to host the get-together. One of the most popular is by hosting a Zoom baby shower, but it's not the only way to host an online event.
Zoom
Free for hosting an event for up to 40 minutes with up to 100 attendees. Anything over will cost you a fee but it's minimal.
Skype
Free for up to 100 guests with no time restrictions so your party can last as long as everyone's having fun.
Google Hangouts
Let's you host an online event for up to 60 minutes with 100 baby shower guests
Here's a full list of the best virtual baby shower websites.
Plan ahead for the best baby shower experience
Although hosting a virtual baby shower is just as easy or easier than an in-person traditional baby shower ideas, it could be a little confusing since you might need to learn how the technology works and figure out the logistics so planning ahead with plenty of time is key to pulling it off.
Here are a few of the most important things you need to do to make this a special day for not only Mom but for the guests too.
Learn how the online platform works
Nobody wants to sit on a Zoom call watching someone fumble and try to figure out how things work. Make sure you know how to use the chosen platform and any features you plan on utilizing like screen sharing or taking online polls.
Send out invitations early
You'll also want to send out party invitations out a bit earlier to make sure everyone has plenty of notice so they can attend. Make sure your email invitation includes all the information a guest will need to know.
Date and time/duration of the baby shower
Links and instructions to show guests how to log into the platform you choose to host the event
Where to send baby shower gifts so they arrive in plenty of time for the party
Virtual baby shower game supplies they might need to participate in the party games. You can send printable baby shower cards as an attachment in the baby shower invitation email and have guests print them out themselves.
17 Best Virtual Baby Shower Games to Play
1. Baby Emoji Baby Shower Pictionary Game
The Emoji Pictionary Game is always a big hit at any party. This party game has people laughing and having fun with all the silly answers that party guests come up with when trying to figure out the answers to the game.
Which makes it a no-brainer for your next virtual baby shower…
Of course, since it's going to be played at a baby shower the games should fit the theme like the children's book emoji Pictionary game below.
The rules of the game are simple, try to guess the name of the children's book title using the emojis as clues. Whoever gets the most right, wins the game and the shower game prize!

2. Guess The Baby's Gender
Guess the baby's gender is the perfect activity to engage guests if the baby shower is also going to be a gender reveal party.
Take a vote of what everybody thinks the gender of the baby is going to be. This can easily be done by creating a poll in Zoom.
3. The Price Is Right Virtual Baby Shower Game
If you're hosting a virtual baby shower, then why not bring the fun of the most-watched game show on TV to your party with the Price Is Right baby shower game?
The rules of the game are simple, shower guests have to guess the prices of select baby items. And just like Bob Barker and Jim Carey have been saying for the last 50 years on the iconic game show, whoever gets closest to the regular retail price without going over is the winner.
You can grab these free baby shower Price Is Right game cards here. There are four designs, one in pink for a baby girl, a blue one for a baby boy, and two gender-neutral colors in case the gender of the baby is not known.
4. Guess That Baby Tune Game
Another fun game to play at a virtual baby shower is Name that Baby Song Game. Your guests will have to think back to when they were kids to remember some of the songs and words in the title.
You can even play snippets of each nursery rhyme in the background as you reveal the answers of each tune to see who got the most answers right.
5. Baby Predictions & Advice For Mom
Although not necessarily a game where a prize is won since the answers won't be known until the baby arrives. The Baby Predictions and Advice for Mom virtual baby shower activity is always fun.
Of course, a prize can be given later on once the baby arrives if you'd like. The game cards with advice for mom & dad are always a nice souvenir or keepsake for the new parents and hopefully helpful too.
6. Virtual Scavenger Hunt Baby Shower Game
Playing the scavenger hunt game is a great way to get guests off their chairs and moving during the baby shower. How to play is simple, make a list of fairly common household items, preferably with a baby theme.
Party guests have to run around their homes trying to find as many items on the list as possible. The person who earns the most points by gathering the most items is the winner.
7. Don't Say the Word "Baby" Game
No matter how hard you try, not saying the word "baby" at any baby shower is nearly impossible! This is why the "don't say the word baby" game is so fun.
The game rules are simple. Guests are given 10 miniature clothespins and are instructed to not use the word baby. During the course of the shower, every time anyone says baby they have to remove one clothespin.
The guest with the most clothespins left at the end of the baby shower wins the game and a prize.
8. Guess Who, Mom or Dad? Virtual Baby Shower Game
Guess who, Mom or Dad, also known as "who knows the expecting parents the best" is another fun game to play at a virtual baby shower.
You'll need to get the Mom & Dad involved since they are the only ones who can determine the answer key of the game for the hostess and ultimately, who wins the game.
Partygoers have to guess if each statement best describes the new Mom or baby Daddy and the person with the most answers right wins the game.
9. Jibber Jabber Baby Talk Game
Jibber Jabber is another fun baby shower game that'll keep guests entertained, laughing, and having a good time. The game is simple to play, you present your guest with phrases that sound like baby talk.
Then the game contestants have to decipher what phrase the jibber-jabber is actually saying. For example "donut crime overt spelled melt" translates to "Don't cry over spilled milk".
Reading the phrase fast helps to figure out the answers a little easier but you don't need to tell the guests that!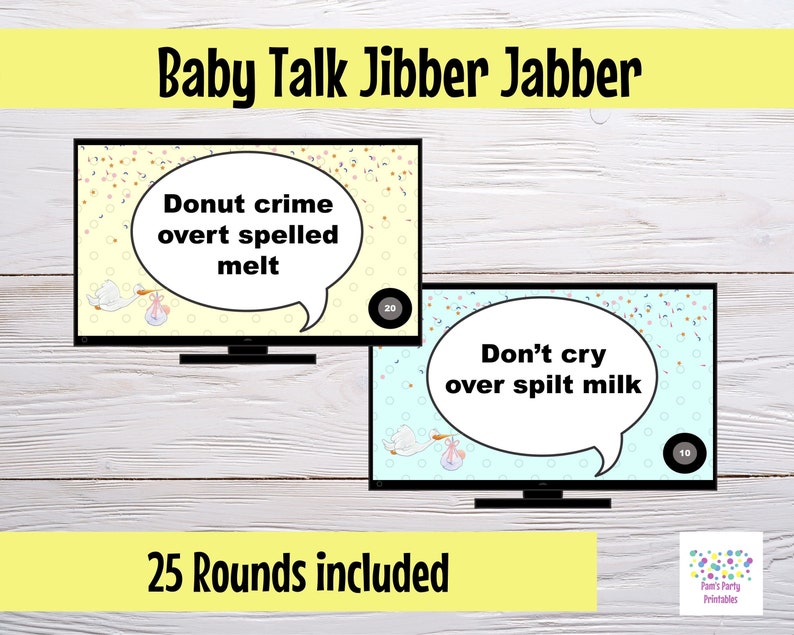 10. Virtual Baby Trivia Shower Game
Test the baby shower guests' knowledge of the baby facts and random information with the baby trivia shower game.
The trivia questions include fun facts like "how many diapers does a baby go through in a year" or "which body part are babies born without".
The funniest part is when the answers are revealed, many people are in shock of some of the answers.
11. Celebrity Baby Names Guessing Game
Whichever baby shower guest stays up on pop culture the most is going to be the likely winner of the celebrity baby name game.
The way you play is you have to match each celebrity with the name of their baby, for example, Blue Ivy to Beyonce and North to Kim Kardashian.
12. Virtual Baby Shower Bingo or Shower Gift Bingo
Bingo is always a hit at any party since it's super easy to play and just about everyone already knows the rules. Baby shower bingo can be played 2 ways at a virtual baby shower.
You can play it in the traditional way where you select card pieces at random and whoever gets all pieces to complete a line wins.
Another way of playing baby shower bingo is by marking off game pieces of whatever baby gifts you see the new Mom receive while opening her presents which makes it more interactive for the guests.
Anytime the gift includes something on the player's game card they mark it off and the first person to get all items in a straight or vertical line wins the game.
13. Word Scramble
Word Scramble is another popular virtual baby shower game. The guests have a list of baby items but the letters are scrambled and have to try and figure out each word.
The first person who can unscramble all the words, or the person with the most correct answers about the baby item wins a prize.
14. Baby Bump or Beer Belly Guessing Game
The baby bump or beer belly guessing game is simple to play and is just as the name implies. Guest will be shown images of bellies and they have to guess if it's a pregnant woman's belly or a man's beer belly.
Another way to play this baby shower game on Zoom or any other online meeting platform is to create a slideshow with images of bellies and share your screen with the guest.
15. Baby Animal Name Game
The Baby Animal Name Game is always fun at a virtual baby shower. It also gives the host a minute to take a break since many answers will have your shower guests baffled.
The rules are simple, match up the right baby animal name to the correct mom and the person with the most right answers wins a prize.
16. Old Wives Tales Baby Game
If your baby shower is also going to be a gender reveal party, then let's see if all those old wives' tales, we hear so often, that determine a baby's gender are true.
Simply ask your virtual baby shower guests to fill in their guesses for each wife's tale, then tally up the numbers. Mostly blue answers mean that it's a boy and more pink answers mean it's a girl.
17. Baby Candy Bar Game
The diaper poop candy bar game is always a hit at any baby shower. What you do is melt candy bars and scoop them into diapers. Then your guests have to guess which candy bar made the mess in the poppy diaper.
It's always fun to see the guest's faces; although I have to admit, seeing the mess in-person typically gets a bit more of a reaction than at a virtual baby shower.

18. Baby Shower Word Search
Lastly, baby shower word search can be fun to play to keep guests entertained. The guests are given game cards of scrambled letters and have to find as many words as possible from the list in the amount of time allotted.
Best Virtual Baby Shower Games Prizes
Now that you have all your baby shower games and activities selected, what kind of prizes do you award for winners at a virtual baby shower?
What I've found is that baby shower game gifts are much easier to distribute if they can be given electronically and emailed to the prize winner. Here are a few examples…
Groupon for a local restaurant or event
Starbucks e-gift cards
Electronic gift cards to popular online retailers such as Amazon
Of course, you can decide to send game-winners traditional baby shower prizes but just keep in mind that you'll need to distribute the gifts or get them mailed out which is an added party cost.
Virtual Baby Shower Game Ideas Conclusion
As you can see, there are many virtual baby shower games to play and entertain guests and keep the conversations going and laughs flowing.
With just a bit of planning, the virtual event can be as much fun, if not more, than a traditional celebration and super special for the expecting mom!
More Online Baby Shower Ideas
The Price Is Right Baby Shower Game Free Printable Game
Free Baby Shower Word Search Game Printable
Baby Shower Game Prize Ideas Your Guests Will Love
17 Best Virtual Baby Shower Games & Activities Perfect for a Socially Distanced Baby Shower