This post may contain affiliate links. Please read my disclosure for more information.
FREE Letter to Santa Template Printables
Kid's love writing to Santa to let him know what's on their wish list in anticipation of the big day. Download a free letter to Santa template printables to make a good impression on old St Nick.
---
Christmas is a magical time of year for so many kids…
Just the thought of Santa Clause and his reindeer flying around the world delivering toys and gifts to all the boys and girls around the world seems too good to be true.
And every year, like clockwork, Santa delivers toys while the children are sleeping, then eats the cookies and milk left out for him while not waking even a mouse (as the saying goes…).
And even if they've never seen him, children want to let Santa know what they want for Christmas to make it easier on him (and to make sure they actually get what they want the most).
Where to mail the letter to Santa
Of course, if your child is going to write a letter to Santa, they're going to want to make sure it goes out in the mail.
But how fun would it be if they got a reply!!
Funny enough, the USPS has an amazing service that will do this for you at no cost, if you live in the US. How it works is that you write a response to your child's letter "from Santa" with a stamped return envelope and they will mail it back to your address.
They even include a North Pole postmark in case your kids are a bit skeptical…
Send your child's letter to Santa along with your response to:
North Pole Postmark Postmaster
4141 Postmark Drive
Anchorage, AK 99530-9998
Letters must be received by December 10th to make sure Santa's reply makes it back to the children before Christmas. You can read the full details of how it works here.
Another great program called USPS operation Santa that that helps fulfill children's wish list items is by adopting a Santa letter.
How it works is they post all the letters in Santa mailbox and you can read through them. If you wish, you can buy a gift or two on a kid's wish list for Christmas and have it shipped for free.
This is a great way to help out and make a child's Christmas magical.
22 FREE Letter To Santa Template Printables
Click on the image or link under the image to download whichever letter to Santa you want to download.
Letter to Santa Template Set
This set of 3 letters to Santa templates is great if you have kids of all ages with different writing skills.
There's one fill-in-the-blank for younger children and 2 free-form letter templates for kids who would rather write their letter in their own words.
Las Vegas Fit Mom
I've Been Good This Year Letter To Santa template
We all know that if we're naughty, Santa won't bring us any gifts. So it's best to make sure he knows you've been good this year with this "I've been good this year" Letter to Santa free printable.
Spaceships and Laserbeams
Dear Santa Letter Template Printable
This Dear Santa Claus letter template has a cute candy cane border and fun Santa and Rudolph graphics.
Letter to Santa Beard Coloring Page
This next letter to Santa template coloring page is great for younger children. They'll be able to show off their coloring skills to Santa and write their Christmas list items in the beard.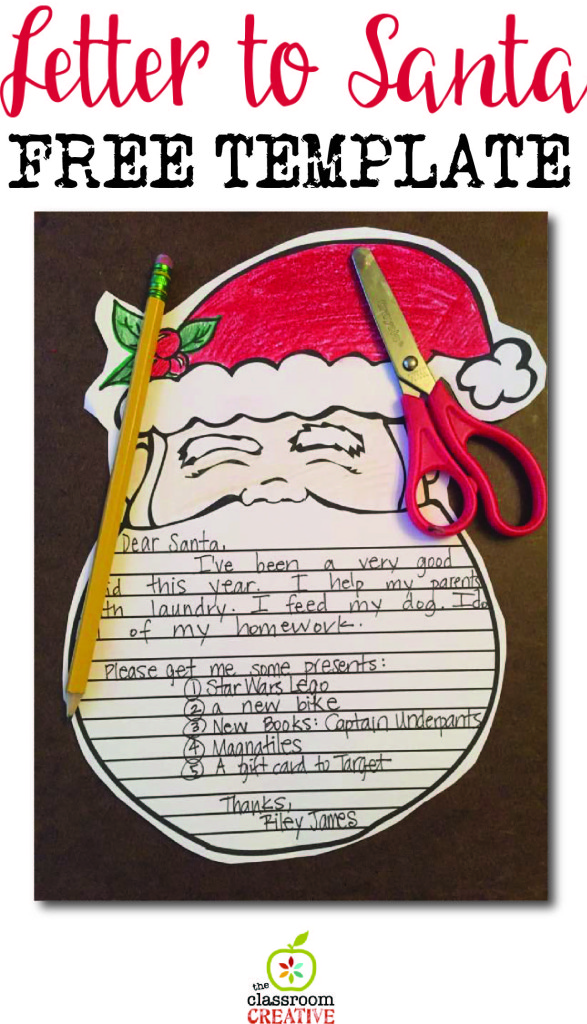 The Classroom Creative
Letters to Santa With Matching Envelope
I love this set of letters to Santa. There are 3 different designs that come with matching envelopes to send to the North Pole which is sure to impress the big guy.
Fill In The Blank Letter to Santa Template
This fill-in-the-blank letter to Santa template might have your child thinking about how good they've really been this year.
Special Delivery Free Santa Letter Template
This special delivery letter comes complete with a postmark to the North Pole is fillable making it easier for young kids to send a letter to Santa.
Fillable Official Santa Letter
This fillable official Santa letter is perfect for kindergarteners since all they have to input is their age, check if they've been naughty or nice, and write their Christmas wish items.
Moo Moo's and Totus
My Letter to Santa Template
This My Letter to Santa template focuses on generosity and kindness. There's a section where your child has to write the nicest thing they did and a wish list item for a friend.
Feelin Crafty
Dear Santa Letter With Pictures
I love this idea for a Santa letter template. Instead of writing the toys you want for Christmas, you find pictures and past them on to be sure you get exactly what you want.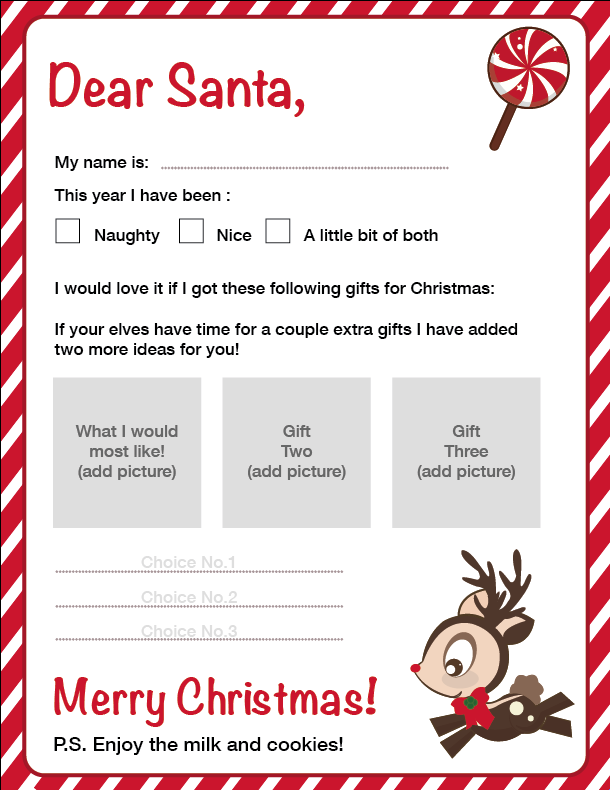 Sweet Paper Trail
Free Printable Santa Letter Coloring Page
This printable letter to Santa is also a fun kid's activity page that they can color however they like.
Tot Schooling
Santa's Nice List Letter Set
This cute reindeer Santa template letter comes complete with a letter from Santa template certificate for you to mail back to your child letting them know they've been good this year.
North Pole Express Mail Letter to Santa
Here's yet another fill-in-the-blank free printable letter Santa template express mail so your child knows it'll get to him in time for Christmas.

Dear Santa Letter Template Printable
This next Dear Santa letter template is super easy since all you need to do is list what's on your Christmas wish list, sign your name, and draw a picture of yourself.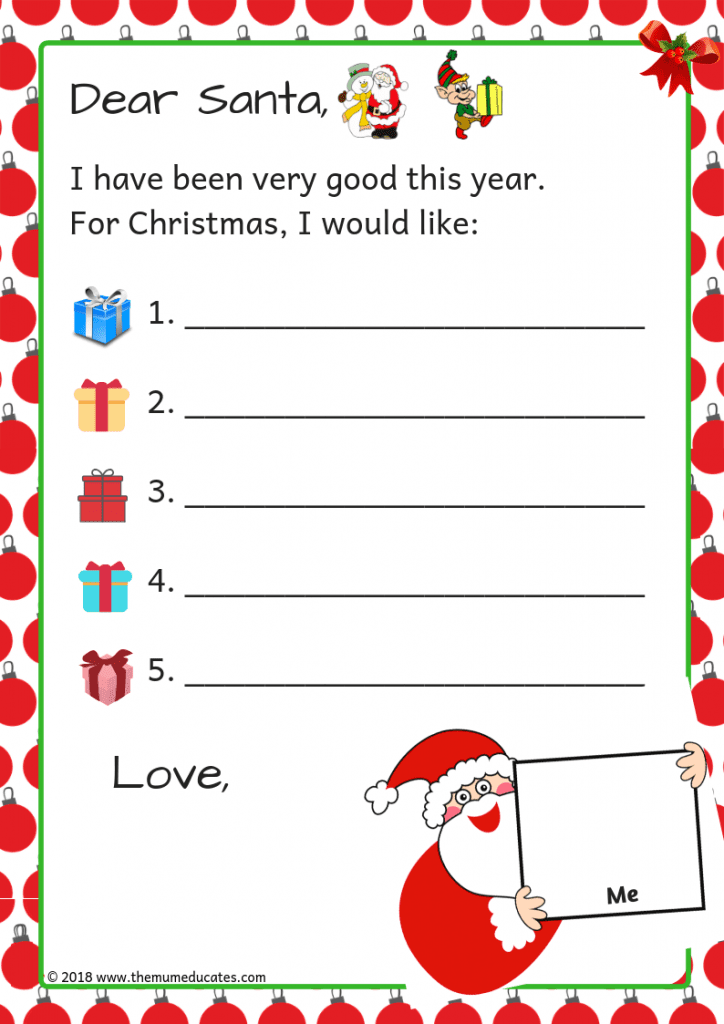 Dear Santa Letter Writing Kit
This Dear Santa Letter Writing Kit is the perfect way to encourage your child to write more and comes complete with envelopes with Santa's address as well as cute Christmas-themed pencils.

Printable Santa Letter Templates
This next set of free printables comes with three different designs that can be used to write to Santa.

Dear Santa Printable Letters
This set of Dear Santa printable letters is so cute. There's one fillable Santa letter template and another that leaves a bit more room for free form writing.
Santa Letter Printable Templates
Here's another set of Santa letter templates where you get one fillable letter and one free writing letter.
Toddler Letter To Santa Template
This next letter to Santa printables are perfect for toddlers because they only have to check if they've been good or bad and write what's on their Christmas list.
Funny Letter To Santa Template pdf
This next Santa letter printable is perfect if your family spends Christmas on holiday at a beach.
Free Printable Letter To Santa
This next free printable letter to Santa is easy to write since your child just needs to list what they'd like for Christmas.
Christmas Wish List Letter
This next Santa printable is not exactly a letter but it does help the elves know what gifts your child wants and needs for Christmas
Letter To Santa Conclusion
As you can see, there is no shortage of templates for Santa letters as well as a few letters from Santa templates that you can use to reply to your child on Santa's behalf.
Pick one or more of these templates to download to encourage your child to write more and get a good idea of what you should buy them for Christmas to make it special for your child.
Need help staying on top of everything that needs to get done during the holidays? Grab the Christmas Budget Planner Today!
More Christmas articles you may be interested in!
9 Ways To Stay Out Of Debt This Christmas Season
How To Pay for Holiday Gifts When You Can't Afford To
How To Create a Christmas Budget
How To Save Money This Christmas Season
Looking for more Printable templates? Check these out!
23 FREE Habit Tracker Printable Templates
15 Free Printable Budget Planner Templates
17 Free Meal Planning Printable Templates
10 Free Debt Snowball Payoff Planner Templates
Free Price is Right Baby Shower Game Template
15 Free Chore Chart For Kids Template Printables