Grab a free habit tracker printable and create a new healthy habit in your life today
---
If you're looking to develop better habits in your life then grab a free habit tracker printable to track your progress today.
Have you ever heard that it takes just 21 days to form a new habit? It's a nice idea, right? In just three short weeks we can change bad habits and create new healthy habits in our lives.
Although the 21-day rule is a good start, behavioral scientist James Clear reports that it takes between 18 to 254 days to form a new habit depending on the person, behavior, and circumstances.
How to create new healthy habits
Whether it takes 21 days, 30 days, or an entire year, it's pretty evident that you need to make it a point to work the new habits into your daily routine repetitively until it becomes second nature.
So if you have a goal to create a new healthy habit or finally achieve your New Year's resolutions, keeping it top of mind until you don't have to think about doing it is the goal.
Habit Tracker Ideas
There are literally a ton of things you could use a simple habit tracker for. Here are a few examples of habits to start tracking today.
start eating healthier
exercise regularly
drink more water
give up junk food
quit smoking
making your bed daily
go to bed at a reasonable time
get daily chores done
Articles regarding habits to make or break for a better life
Keeping track of your progress to form a new good habit
Now that you know that you have to repeat habits daily for them to become part of your daily routine, you should find a way to track your progress and make sure you don't give up or fall back into bad habits.
The easiest and best way to do this is by using a printable habit tracker. So I put together a list of 23 Habit Tracker Printables with unique designs for you to choose from.
Simply decide which specific habits you'd like to create and click the download link of your favorite printable habit tracker from the many different designs below.
Place a check mark or fill in the boxes with different colors to create a visual way to stay focused on the positive change you are trying to make.
Most of these habit tracker printables come in standard US letter sized (8.5 x 11) sheets and come in PDF format but can be easily resized. So without further ado, here are 23 Free Habit Tracker Printables.
23 Free Printable Habit Tracker Templates
1. Habit Tracker PDF
Habit Tracker PDF Template by Money Minded Mom
Create new positive habits in your life with this simple printable tracker.
2. Free Mini Habit Tracker Printable
Stamp Style Mini Trackers by Masha Plans (sign up to access her resource vault)
Stay on top of many different habits all at once with these mini trackers.
3. 100-Day Habit Tracker Printable
100 Days Habit Tracker Printable by Smiling Colors
Track one particular habit at a time with this 100 days to a new goal printable
4. 30-Day Challenge Goal Habit Tracker Printable
30 Day Challenge Goal Tracking Printable by 101 Planners
This 30-Day Goal Challenge is another great option to keep track of your progress.
5. Daily Water Intake Habit Tracker
Water Intake Habit Tracker by 101 Planners
This water intake tracker is the perfect way to start creating new healthy habits on a regular basis.
6. Healthy Habits Tracker Template
Healthy Habits Tracker Template by Home Centered Living
It's all the little things you do, like creating small changes in this tracker that all add up to living a better life.
7. Bumble Bee Monthly Habit Tracker Printable
Bumble Bee Monthly Habit Tracker by Printabulls
Who could resist this super cute bumble bee, daily tracker?
8. Planner Habit Tracker Printable A5 Insert

Planner Habit Tracker Printable A5 Insert by DOAA Inspiring Designs
This A5 insert is a great option to make small changes in your life if you love using planners to stay on top of everything.
9. Sidebar Weekly Habit Tracker

Sidebar Weekly Habit Tracker by Malina Haas
Add these sidebar printables to your planner to stay on top of any single particular habit you are working on weekly.
10. Yearly Habit Tracker
Annual Habit Yearly Tracker by Morning Motivated Mom
Have big goals you want to achieve? This yearly printable is a good place to start.
11. Free Monthly Habit Tracker

Monthly Habit Tracker by Stampin Fool
This 30 days to a new you will help you focus on one goal you want to achieve in a month.
12. Circular Habit Tracker

Circular Habit Tracker by Paper Trail Design
This circular design is a fun way to stay on top of all the new habits you want to achieve.
13. Year-Long Daily Habit Tracker
Annual Habit Tracker by Bobbi Printables
Another fun annual habit tracker to work on big goals such as new year's resolutions.
14. Mandala Habit Tracker PDF
Undated Mandala Habit Tracker by Make Breaks
Keep track of your habits with this lovely circular printable which can also serve as a mood tracker too.
15. 30-Day Habit Tracker
30 Day Habit Tracker Printable by Moritz Fine Design
Track all your weekly habits with this colorful printable pdf template.
16. Free Weekly Habit Tracker
Free Weekly Habit Tracker Printable by Dear Crissy
Keep track of daily tasks with this printable template with enough space for many different small changes you want to make.
17. Monthly Horizontal Habit Tracker

Horizontal Monthly Habit Tracker PDF by Seed Successful You
Slay all your new goals with this beautiful habit tracker bundle in 5 different styles.
18. Circle Habit Tracker Template
Circle Habit Tracker Template by Brooklyn Berry Designs
Easily stay on top of all your monthly habits in one place with this circle tracker.
19. Cute 90 Day Habit Tracker PDF
90 Day Habit Tracker Printables by Go Design Class
This design is excellent to help teach children to start a new good habit that'll last a lifetime.
20. Free Habit Tracker Template
Free Habit Tracker Printable by World of Printables
This unique habit tracker with notes is the perfect printable planner templates to add to your daily planner.
21. Yearly Habit Tracker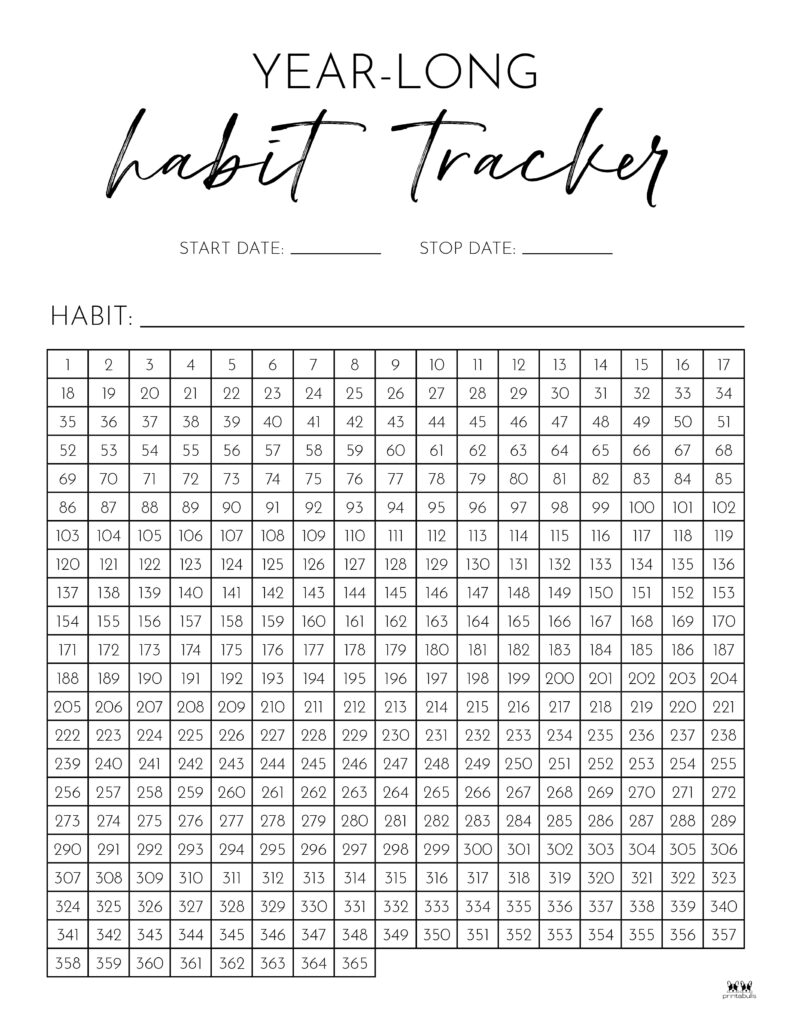 Yearly Habit Tracker by Printabulls
A Great way to stay on top of your daily habits for an entire year.
22. Reward Habit Tracker
Reward Habit Tracker Printable by Just Bright Ideas
Rewarding your small steps to develop great habits to encourage you is a good idea.
23. Bullet Journal Habit Tracker
Free Mini Bullet Journal Habit Tracker by The Petite Planner
If you love bullet journaling, then these mini trackers are the perfect printable templates for a die-hard bullet journalist.
Free Printable Habit Trackers Conclusion
So whether you're habit tracking on a daily basis, for an entire month, or all year long, as you can see, there is a printable habit tracker pdf to fit every need.
Grab a free printable habit tracker and start creating new good habits today.
More FREE Printables You May Be Interested In To Make Life Easier
Free Printable To-Do List Templates
Monthly Budget Worksheet Printables
Printable Chore Charts for Kids
Debt Thermometer Printable PDF Template
52-Week Money Challenge Printables Worksheet
The Price I Right Baby Shower Game Printable