This post may contain affiliate links. Please read my disclosure for more information.
Spice Organization
Spice organization ideas to help you easily find what you need, when you need it
---
As busy Moms, we spend a lot of time in the kitchen. Probably more than we'd like to…
We're in there cooking dinner every night, prepping lunches for school and work, and constantly cleaning up messes left behind.
And if you're anything like me, you might get a little frustrated at how much time is wasted in the kitchen when we have a zillion other things that need to get done around the house.
Now don't get me wrong, I love cooking for my family, but just don't have the patience for wasting time and inefficiencies with all that we have to do every day.
Kitchen Organization
One way to combat this is to get organized in the kitchen so you can find what you need when you need it so you're more efficient which saves a lot of time.
And although I've done a lot to get organized in the kitchen so I can be more efficient and get in and out faster like organizing my pots and pans for easy access.
And keeping my pantry organized so I always know what I have on hand to save money on groceries and avoid food waste.
And one of the best things I've done to save time is organizing my chest freezer so I can actually find what I need without having to empty everything just to get to that pot roast I bought last week.
But one area that I've always struggled with is spice organization. All those tiny bottles of spices just never seem to stay organized or you have to take out half the jars just to find the one you need.
I'm sure I don't need to tell you how frustrating this could be when in the middle of cooking a meal.
23 Spice Organization Ideas and Storage Solutions
Spice Organization Tips
Before diving into the spice storage ideas, let's go over some tips to help make spice organization easier.
Go through your spice cabinet and pantry take out all your spices so you know what you're dealing with.
Get rid of anything that's expired or that you don't use.
Condense like items into one spice jar if possible.
Use uniform containers like glass spice bottles with labels to make spice storage easier.
Find an easy spice organization idea from the list below.
Spice Drawer Organization
One of the best spice organization ideas that I've found is to organize spices in a drawer. When organized with a tiered spice rack, you have easy access to all your spices since they are all laid out so you can see everything you have. You don't even have to move spices around to find what you need!
You can achieve this by purchasing a spice rack tray that fits in most standard-sized kitchen drawers. Of course, to use this spice drawer organizer, you'll need to have a spare drawer in your kitchen. If you don't have one, don't fret, I have more ideas for organizing spices that might fit your needs.
Pull Out Spice Rack Storage Solution
If you have a small kitchen with little storage space then this pull out spice rack might be the perfect spice storage solution for you.
You can purchase one of these slim rolling cart spice organizers on Amazon. It tucks away in the unused space between your kitchen cabinets and fridge or stove to maximize space.
Another great benefit from this spice storage idea is that you'll never lose another cooking utensil in those cracks which, as you know, can be a pain to retrieve.
Rotating Spice Organizer
Another option to keep spices organized is by using a rotating spice organizer or lazy Susan to organize spices in your spice cupboard or pantry.
What's great about this spice rack organizer is the two-tiered shelf which basically doubles the space you have to store spices in your kitchen.
Plus you have easy access to everything since it spins so you can easily find what you need when you need it.
Over The Door Spice Rack Storage Solution
This over-the-door spice rack idea is another great way to maximize space in your kitchen by utilizing what would normally be dead space on the inside of your kitchen cabinet doors.
What I like the most about this pantry organization idea is that it's really easy to install. All you need to do is hook this hanging spice rack to the top of a kitchen cabinet or pantry door and fill it with your favorite spices and condiments.
Under Cabinet Spice Rack Organization
If you don't have much cabinet space or counter space in your kitchen to organize spices, then this under cabinet spice rack might be just what you're looking for.
You can install one of these floating spice organizers by sliding the hooks on any shelf in your kitchen to add spice storage where needed.
It also rotates to make finding what you need really easy, the only downside is that it doesn't hold as many spice jars as some of the other spice organizers listed in this article.
Organize Spices With a Countertop Spice Rack
Another way to organize spices in your kitchen is by using a rotating countertop spice rack. What I like about this idea is that you can move it anywhere in your kitchen for easy access, yet it tucks away in any corner of your countertop.
This spice rack comes with 16 spice jars, a small funnel to make it easy to transfer your spices into the jars without spilling any, and some reusable chalkboard labels so you know exactly which spices you need since many of them look alike.
Wall Mount Spice Rack
This wall spice rack isn't just functional when you have very little kitchen storage but also adds a nice farmhouse decor touch to any kitchen.
The wall mount spice racks can be arranged any way that looks good on an empty wall to add storage space for spices and other small jars of seasonings and herbs.
Just be sure that you can reach all the spices without having to take out a step stool which can be dangerous and time-consuming too.
And if you don't have a convenient place to hang these on a wall, you could always install them inside a pantry or cabinet drawer for added storage space.
Magnetic Jar Spice Organization
I found this spice organization idea while searching online and think it's genius! The creator found some small magnetic spice jars at the Dollar Tree.
Then mounted a sheet pan on the interior door of her pantry to make an easy DIY spice rack which is the perfect spice storage solution for small kitchens.
Unfortunately, I couldn't find any of these cute spice jars at my local Dollar Tree, but I was able to improvise by using baby food jars and gluing magnets on the caps.
via Acultivated Nest
Cupboard Spice Rack Shelf
If you prefer to keep your spices in a cupboard but just need to find a way to keep them organized so you can easily find what you need, then this cupboard spice rack shelf will work like a charm.
There are three shelves that hold 6 spices each, 18 total, and the shelves pull out and slant down so you can easily see which spices you need.
You can even label the trays like in the image below to make it even easier to find what you need.
Test Tube Spice Rack
If you're looking for a fun and unique way to store spices then this test tube DIY spice rack might be just the idea for you.
Although if you use lots of spices when cooking, it might not be very functional since you'll probably need to refill the tubes quite often.
On the other hand, it's the perfect idea for spice organization in an RV or at a camp where you probably don't use as many seasonings and spices as you do at home.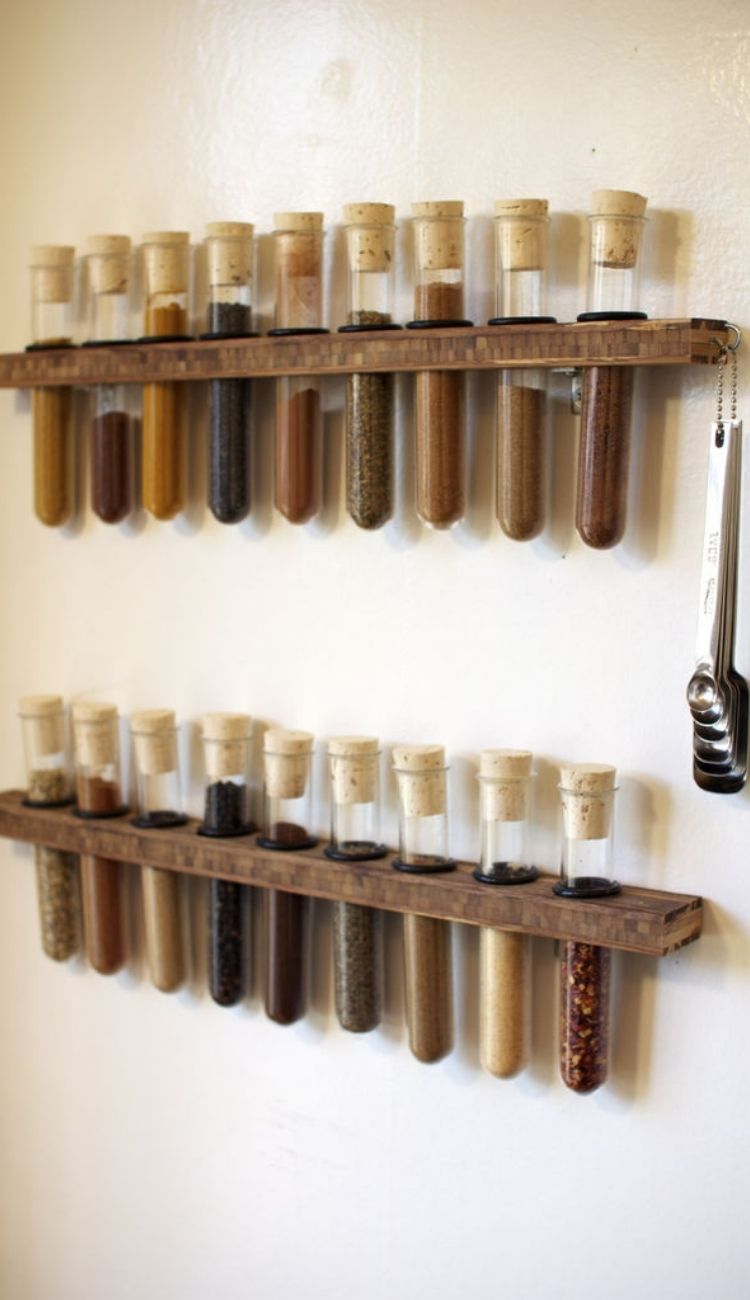 via Instructables
Pull Out Spices Racks
This pull-out spices racks is another option to store your spices in a cupboard while keeping them organized.
This organizer for spices comes with four racks for spices and holds 20 spice jars which can be labeled with a chalk marker.
The rack mounts on the shelf of a cupboard so it stays in place when the rack is pulled out. And if you need more room for spices you can easily install two racks side by side without taking too much space in your cabinet.
Under Cabinet Spice Shelf
This fun idea I found at Better Home & Garden is a brilliant way to keep organized spices right in plain view.
The creator found some cute jars with cork lids in two different sizes and set one row of spices neatly on her canister set.
Then she installs a small counter shelving unit to add an extra row of spice storage space for more room. Such a simple idea yet looks really good without looking cluttered.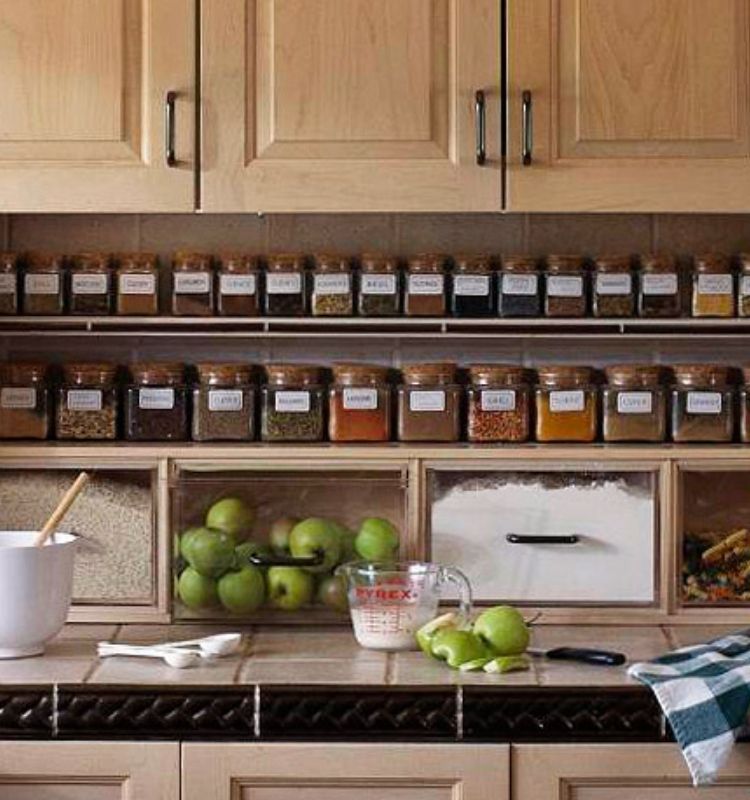 via BHG
Spice Gripper Adhesive Clips
These spice gripper adhesive clips are such a simple idea but are the perfect solution for storing spices in your kitchen.
The strips can be mounted on a wall, inside a cupboard door, or just about anywhere else you want to keep your spices.
These adhesive clips are super affordable so if you're looking for budget-friendly organization ideas, these are just the product for you.
Wood Shelf Spice Organization
This spices storage wood shelf organizer is perfect if you're an avid cook or love to bake. It holds 60 spice jars and is made of high-quality bamboo.
The unit also includes the jars as well as 315 pre-printed spice labels so you know they've thought of just about every spice you need.
It also comes in a variety of colors so you can easily find a shelf to match your kitchen decor while bringing a touch of class to your kitchen.

Wire Basket Organizer for Spices
Here's another DIY spice organization idea I found when searching for the best spice organizer for my needs.
What I like the most is that it utilizes dead space that would otherwise go unused on the interior walls of cabinets and pantries.
It's really easy to recreate this with some cheap wire basket and command adhesive strips for an easy DIY project.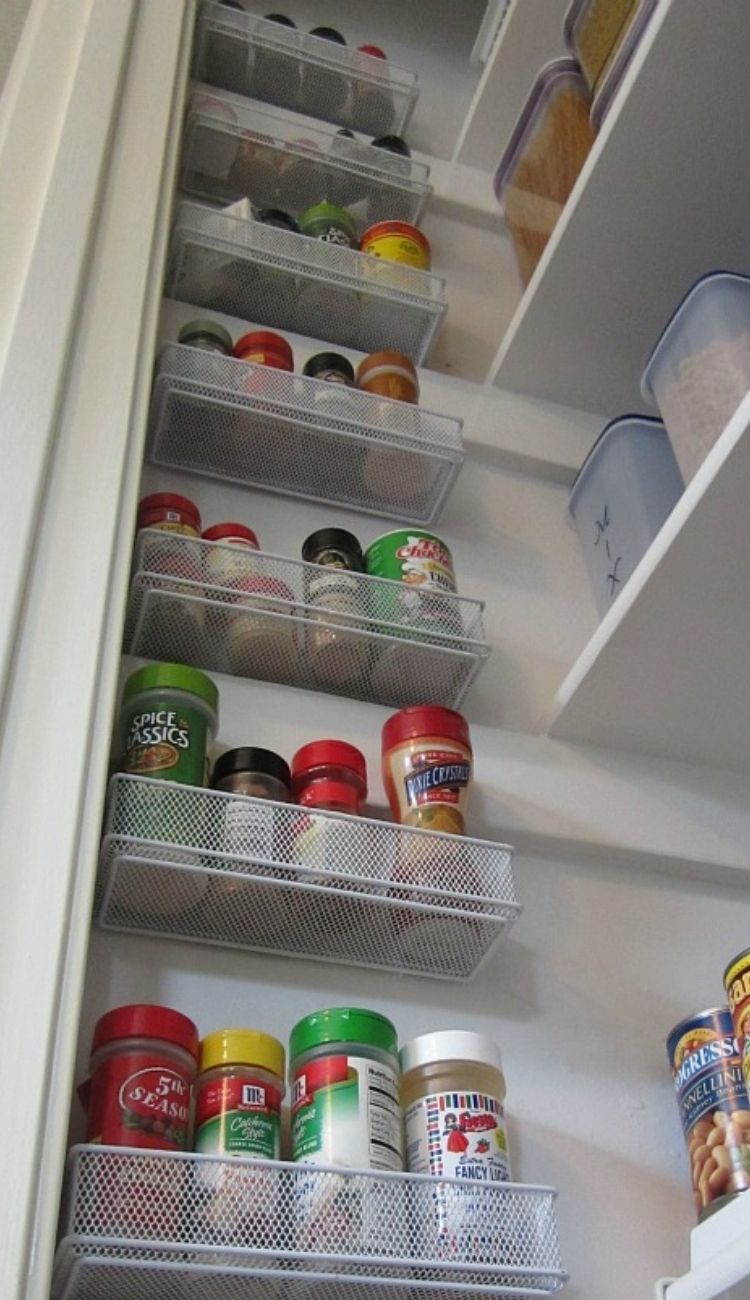 Spice Cupboard Organization
If you have small spice cabinets in your kitchen then this expandable and stackable spice shelf idea may be just the thing to easily organize spices in cabinet.
The shelf wraps around the perimator of the cupboard to store all your spices in direct view so you never have to take things out just to find what you need.
These spice shelfs are not only stackable but they can also be adjusted to fit in any cabinet width.
Spice Storage Ikea Shelf
For those who love to shop at Ikea, this wood spice rack might be just what you're looking for.
It adds a classy look to your kitchen decor while making extra storage space for spices that you use most often.
Hanging Spice Organizer
This little gadget to organize spice cupboard is so clever. It utilizes the empty space at the top of cabinets so instead of stacking spice jars on top of each other, you can see all the containers making finding the spice you need really easy.
These units are really easy to install and won't damage your cabinets and can hold 10 small spice containers each.
Criss-Cross Spice Tower
If you're looking for a classy way to organize your spices without taking up any cabinet space, then this crisis cross spice tower might be just the spice organization system you're looking for.
The spice rack is made of solid bamboo wood and comes with 18 pre-filled spice jars with labeled caps. It can be set on a countertop both vertically or horizontally or hung on a wall.
You even get 5 years of free spice refills with your purchase!
Tiered Spice Organization Shelves
Spice organization doesn't need to be complicated. The biggest issue with organizing spices is that you can't see all your spices when in a kitchen cupboard.
A simple organizer like this tiered spice organization shelving unit might be all you need to make finding the spice you need easier.
It allows you to see the spices in the back of the unit and can be set on a countertop or inside a cabinet for easy access.
Hidden Spice Rack Organizer
Prefer to keep your spices hidden but don't have a spice cupboard in your kitchen? If so, then this is one of the best hidden spice rack ideas I've found to store spices.
This shelving unit mounts under your kitchen cabinets and pulls down so you can see and easily access whichever spice container you need.
Spices Organization System
Here's yet another spices organization system that is so versatile it can fit just about anyone's spice storage needs.
You can use this spices rack idea as a free-standing countertop shelf or it can be mounted on a wall or interior cabinet or pantry door.
Metal Tin Spice Organization
Looking for an easy spice organization DIY idea to organize spice cabinet, then this idea I found online might be for you.
Simply buy metal tins that are easily stackable so they don't topple over. Then you'll need some chalkboard labels and a chalk marker to label each metal tin with whatever spice is stored in it.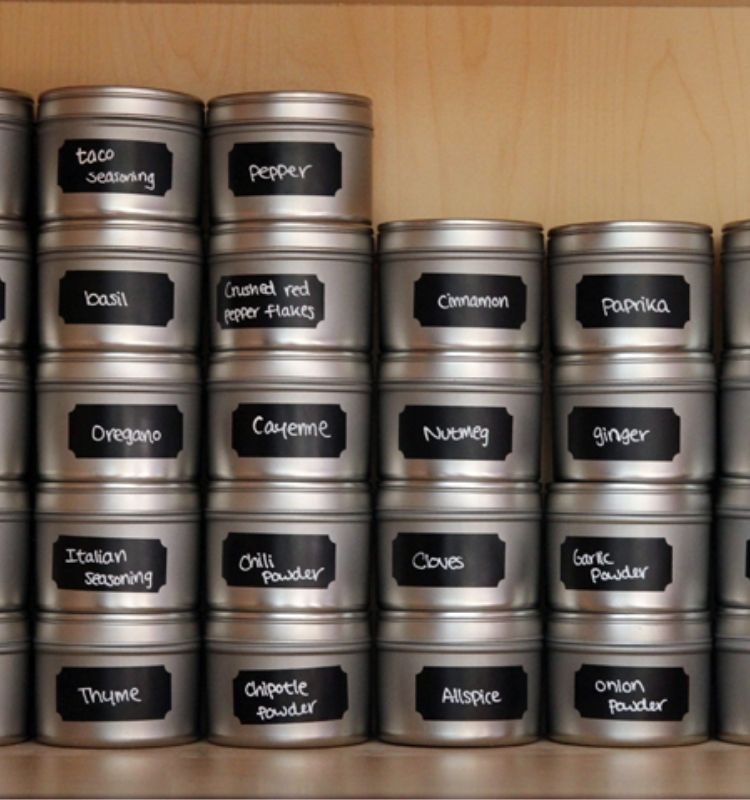 via tablefortwoblog
Spice Organization Conclusion
As you can see, there's no shortage of spice organization ideas to keep your kitchen cabinets and pantry organized.
Whether you have a small kitchen with little to no storage or have plenty of space but just can't seem to keep spices organized, I'm sure there's an idea or two on this list to fit your needs.
I hope you enjoyed this list of spice cabinet organization hacks I've put together. And don't forget to grab your free cleaning printables to get your whole house organized once and for all!
More Home Organization Ideas You May Be Interested In
20 Genius Ways To Organize A Small Bedroom
15 Ways Organize Pots and Pans In Any Home
How To Organize a Chest Freezer (so you can actually find what you need)
18 Amazing Ways To Organize Your Pantry
10 Best Planners For Busy Moms To Get And Stay Organized
20 Family Command Center Ideas To Keep The Whole Family Organized
11 Blanket Storage Solutions To Keep Your Bedding Organized
How To Organize a Purse (and keep it organized)
15 Chore Chart For Kids Free Printables
17 Lego Organization and Storage Solutions
42 Brilliant Car Organization Ideas, Tips, and Hacks
Zone Cleaning: A Simple Solution To Keep Your Home Clean and Organized
Organize all your important information in one place so you can deal with any family emergency that comes your way with the Family Emergency Binder.