This post may contain affiliate links. Please read my disclosure for more information.
Find the best cash envelope wallet for any style
Looking for a cash envelope wallet to replace those worn out envelopes?
If you've been using the cash envelope system for a while now, then you also probably know that keeping your cash in envelopes can be a bit of a pain.
Don't get me wrong, I love Dave Ramsey's budget system and everything he teaches, it's just that using envelopes can be hard to manage.
Especially when you're in the checkout lane, rummaging through your purse to find the envelope (or multiple envelopes) you need to pay for your purchase.
Frankly, it can sometimes be a bit embarrassing…
Like when the people behind you give you the side-eye or sigh heavily to let you know that you're holding up the line.
Not to mention printing up half a dozen pretty cash envelope templates every few weeks does cost money…not exactly budget-friendly.
Luckily, there's a better way to manage your cash by using a cash envelope wallet.
What is the cash envelope system?
I'm guessing that since you're looking for a cash envelope wallet, then you probably already know what the cash envelope system is.
But just in case you don't know exactly how it works let me give you a quick overview.
Cash Envelope System Overview
Determine your budget categories
Set a monthly amount to spend in each category
Only spend what's in your envelopes in each category
Track your money using the envelope method
You can also head over to Cash Envelope System Explained to get all the details on how and why it works.
Why use the cash envelope system?
The cash envelope system is the easiest way to manage your money by using cash to track your spending.
One reason for this is that it lets you see how much money you are spending while making you aware of how much you have left.
When you don't have any money left in a specific envelope you can't spend any more money in that category until you replenish your envelope on payday.
Another benefit of using the cash envelope system is that you don't have to track your spending the way you would with a traditional budget.
These wallets make it so much easier to manage, so let's dive in and find the perfect cash envelope wallet for your needs and style.
Cash Envelope Wallets for Every Style
This Bella Taylor wallet was designed with the cash envelope system in mind which is why it's my top pick for the best cash envelope wallet.
It has 8 envelope slots, which is more than enough for most people, and the compartment is zippered to keep your cash safe.
It also can accommodate up to 8 cards, two of which are windowed slots and can hold your checkbook and pen too.
This cash envelope wallet from Savvy Cents is another one of my favorites. It comes with 5 compartments to keep your cash separated into categories and the entire wallet zips up so you know your cash is safe.
It also has 8 slots to keep your cards organized and is available in 10 different styles. Most are solid colors but there are a few wallets with patterns if that's an important feature you're looking for.
I'm totally amazed by Saveyon's cash envelope wallet. It's truly an all-in-one cash envelope budgeting system with everything you could ever need to maintain your budget and stay organized.
This wallet has 6 horizontal tabbed cash envelopes, a coupon organizer, a monthly bill organizer, and a low profile budget planner.
It's a wonder how they can fit all these features in a super portable and slim 8 X 4-inch wallet!
Like the wallet above, this all-in-one cash envelope by With You seems to have just about everything you could ever think of in a super organized way.
This financial organizer comes with a calendar, budget planner, and notebook as well as weekly and monthly planner pages that can be refilled when needed.
Plus it has a hand rope so it's more secure and a button pocket to that can hold your coins and is even large enough to carry some of the smaller cell phones too!
If you aren't sure that you want to give up your envelopes or just need more
room for your budget categories, then this cash envelope wallet by Conscious Wallet is for you.
This soft, yet sturdy wallet comes with 12 recycled plastic envelopes that are secured in the wallet with mini binder rings, are water-resistant and won't tear.
It even comes with budget tracking sheets and label stickers as well as having an internal zippered pocket to keep your coins.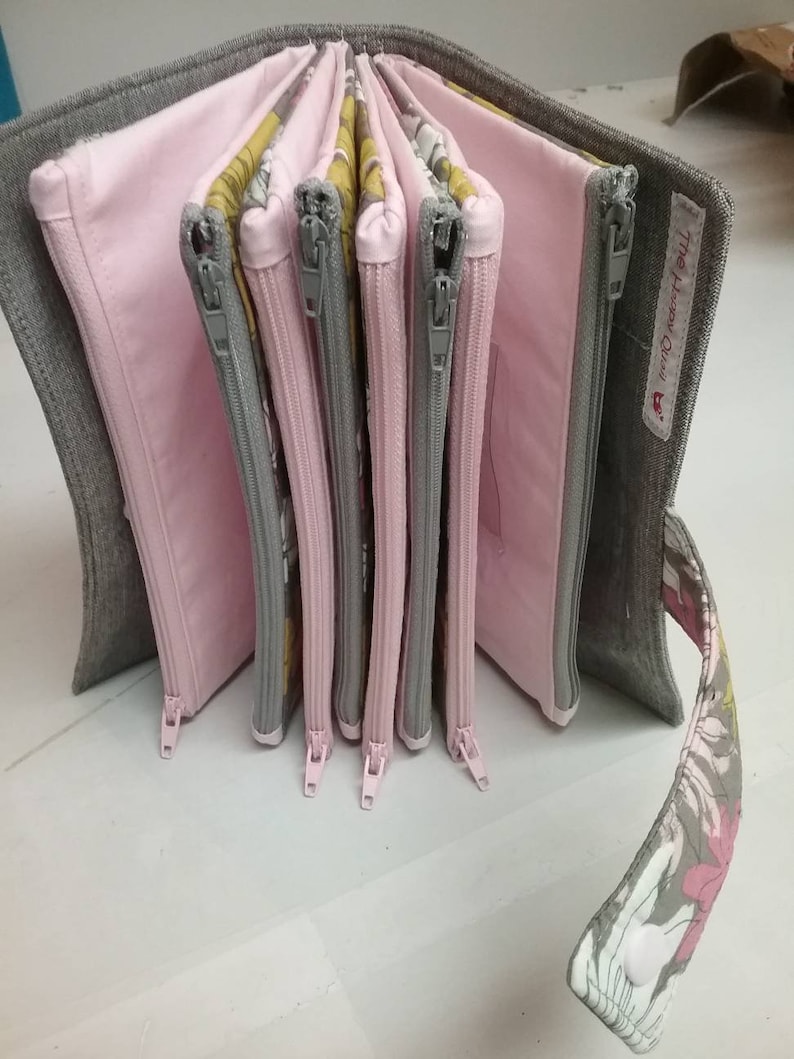 This handmade fabric wallet by The Happy Quail is a bit different than most others you'll find for sale.
What makes it so unique is the zippered compartments that act as envelopes but can also accommodate loose change, keeping your coins secure, so you can track your budget to the penny.
You can find these unique wallets on Etsy in a variety of fabrics and if you don't see a design you're looking for, just send the creator a note and I'm sure they'll accommodate you.
This bi-fold cash envelope wallet by Mou Meraki is made of genuine leather and is super spacious while still being less than 1 1/2 inches thick.
It has 5 cash envelope compartments, and ID window, as well as 17 card slots, and it can even accommodate a slim cell phone.
And hey, if you are looking for a creative money gift idea, it even comes with a gift box!
This list of cash envelope wallets would not be complete without mentioning Dave Ramsey's Financial Peace University deluxe wallet.
Although it's not the prettiest wallet for budget-conscious moms who still like to look stylish, it does have everything you need to manage your envelope system.
It includes 8 cash management envelopes, slots for debit and loyalty cards, and a handy memo pad. There's also a pouch that can be used for coins, coupons, receipts, or any other smaller items.
This Women's Tyvek Wallet has 5 slots to organize your cash envelopes and features a zippered coin pouch as well as a separate area for all your cards and has a snap flap for easy access.
It also has a detachable wrist strap for added safety when just carrying your wallet and is made of water and stain-resistant fabric which makes it super easy to keep clean.
Keep your credit cards, cash, coins, notes, receipts, checkbook, and your cell phone well organized with the ItsLife cash envelope clutch.
This large capacity women's wallets is the perfect choice if you like a wallet that holds all your important items without the need for a purse.
The leather wallet is multi-functional with 21 card slots including 1 ID window, 3 full-length bill compartments, 1 snap cash pocket, as well as 1 zipper phone case.
This Divvy Up clutch wallet is designed with the cash envelope system in mind to help you stay on budget.
It features 5 fabric envelopes built-in with magnetic closure for easy access while keeping your cash safe as well as adhesive labels to personalize your budget categories.
It also can accommodate your cell phone, checkbook, and anything else you would need to carry in a wallet with 12 card slots, a zipper pouch, and a large slot for your envelopes.
Cash Envelope Wallet Conclusion
Whether you've been using the cash envelope system for years, or are just starting out, I'm sure you'll find using a wallet so much easier.
If you haven't been using the envelope system and find sticking to your budget challenging, then you need to give it a try!
More helpful articles to budget your money better
Budget categories that you may be forgetting about
9 Budget challenges we all face and how to overcome them
Cash envelope system explained: why use it and how to get started
How to plan for unexpected expenses to avoid budgeting your budget
Managing money like a pro – 21 money management skills we all need to master
15 Free budget planner templates
One simple reason you can't stick to your budget